New Range! – 16" x 8" Limited Edition Prints
23rd June 2022

– Update

This new range of Limited Edition prints are to exactly the same standard and have the same amazing level of detail as the larger ones. The only difference is that they have been reproduced at a smaller 'frame friendly' 16" x 8" size. This size of frame is readily available online and in some high street stores such as Wilko.

Prints in this range will be low-run Limited Editions, each being restricted to just 100 copies! Producing prints at this size means that it becomes economical to make available previously unreleased illustrations.

The first to be released is No. 46240 City of Coventry in 1950 condition with streamlined smokebox in BR Blue. The price is £22.50, all are signed and numbered.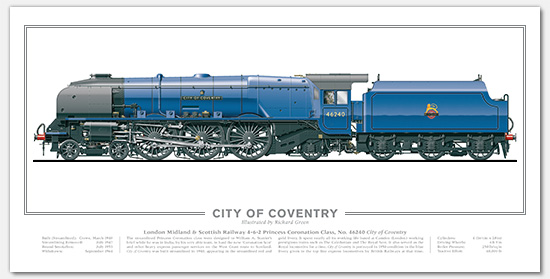 Further details of the range here.
No. 60007 (4498) Sir Nigel Gresley
1st September 2021
LNER A4 No. 60007 Sir Nigel Gresley has been temporary painted black to protect it from the elements whilst at York and during its transit to Crewe – where final overhaul work will take place. The Sir Nigel Gresley Locomotive Trust Ltd wanted to apply wartime style letters (LNER) and numbers (4498) during this period and contacted me to see if I could supply the artwork.
As I had already produced artwork for this style of lettering and numbers (drawn from official drawings) for my A4 illustrations I was more than happy to do so. Due to the accuracy with which I produce my initial line (vector) drawings the letters and numbers just needed enlarging to full size (1:1) and didn't require any adjustment to be used as artwork for the vinyls! The result can be seen below.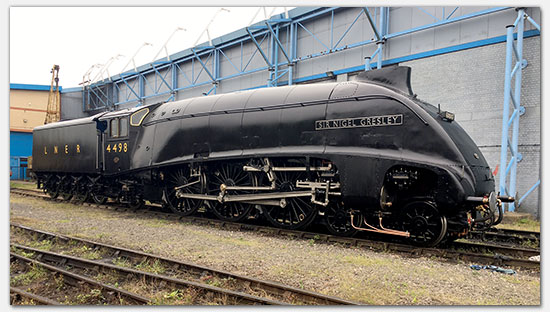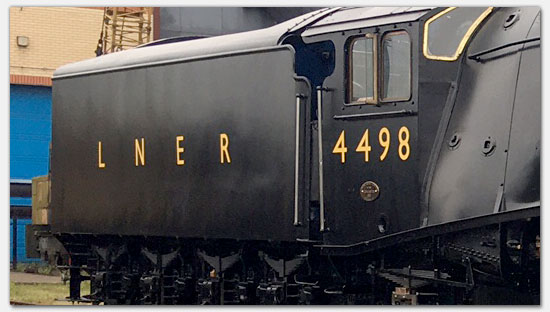 The picture, plus enlargement, above were taken at the National Railway Museum, York and is the copyright © of D Crone/ SNGLTL and used with their permission.
A print of No. 60007 Sir Nigel Gresley, showing it in the condition that it achieved the post-war steam traction record of 112 mph, is available.
SR/BR Rebuilt West Country Class No. 34028 Eddystone
10th June 2021
The print of No. 34028 Eddystone, which up to now has been for Southern Locomotive Limited's exclusive use, is now available to purchase following its recent three year overhaul and return to traffic on the Swanage Railway.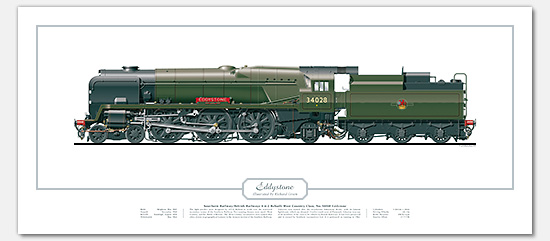 The print shows the locomotive as running in 1962. Full details here.
Postage Prices
5th January 2021
The postal charges have been held at the same level for a good number of years but due to regular rises – the latest being this January – they will unfortunately have to be increased. These rises have been especially significant for international deliveries during this time, with those to the USA being quite dramatic!
The new charges will be; UK: £4.25 (£3.75 at present), Europe: £6.50 (£4.50 at present), World: £9.75 (£5.50 at present). As before these charge are per order not per print.
However the increase will be held until 6th April 2021 to give everyone the chance to take advantage of the old pricing before the change takes place.
New SR Bulleid Light Pacific Prints with Nameplates
4th August 2020
Now available are four further prints featuring the SR Light Pacific classes, West Country and Battle of Britain (2020 is the 80th anniversary of the Battle of Britain) plus all the class nameplates. As before the print size is 404 mm x 303 mm which fits a readily available 16 inch x 12 inch frame.
The two new West Country prints, with BR style titled train headboards, are: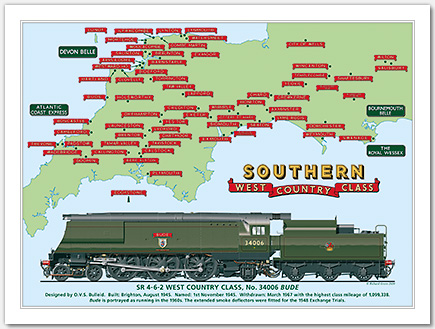 No. 34006 Bude in 1960s condition in BR green with totem. It is attached to a cut-down 4,500 gallon tender. Bude achieved the highest mileage of any member of the class with 1,099,338.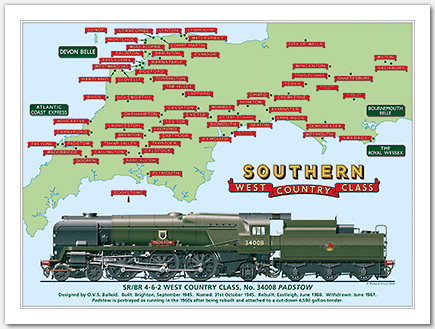 No. 34006 Padstow is portrayed in rebuilt condition, fitted with AWS and speedometer. It is attached to a cut-down 4,500 gallon tender with the BR briquette water treatment system.
The two new Battle of Britain prints, with locomotive and planes to the same scale, are: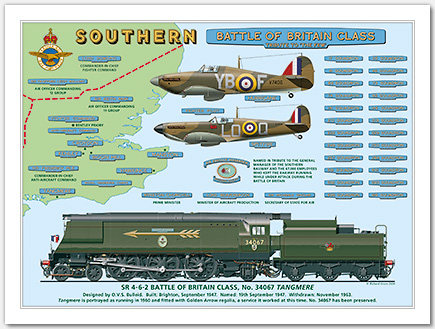 No. 34067 Tangmere in 1960 condition fitted with Golden Arrow regalia along with a MkIA Hurricane of 17 Squadron and a MkIA Spitfire of 602 Squadron.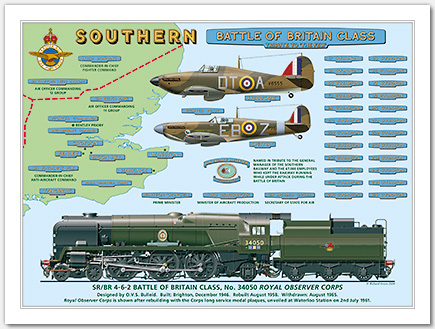 Rebuilt No. 34050 Royal Observer Corps with long service medal ribbon along with a MkIA Hurricane of 257 Squadron and the MkIIA Spitfire of 41 Squadron, which was funded by the Observer Corps.
Click/tap the links or images for further details.
Web Site Security
29th June 2020
Although payment has always happened on secure servers, which protects your personal data, the main site has, until now, stayed with basic web standards. Now the whole site has been upgraded to HTTPS which means that all communication between this site and a browser is encrypted – this will show as a lock in the address bar of your browser.
If you are not seeing a lock in the address bar it probably means you need to refresh the page to ensure that you are viewing the latest version.

Previous News