GNR A1 No. 1470 Great Northern
20th April 2017
The Limited Edition print of GNR No. 1470 Great Northern in GNR Green is now available.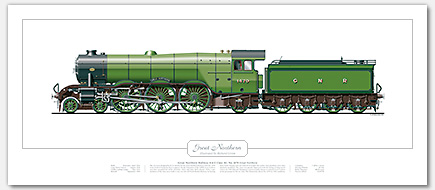 Further details available here.
GWR Castle Class No. 7029 Clun Castle
15th March 2017
The illustration of Clun Castle in the condition hauled the last steam-hauled scheduled train out of Paddington, the 16.15 train to Banbury, on June 11th 1965, has been completed. No. 70029 had been fitted with a double chimney and four row superheater in 1959.
A Limited Edition print, with a run of 250 signed and numbered copies, will be made available this autumn, with the first (1/250) being allocated, as usual, by a draw. To be entered into the draw you will need to have made an advance purchase in the three weeks before publication.
If you would like to be contacted when advance orders are being taken let me know via the GWR Castle form.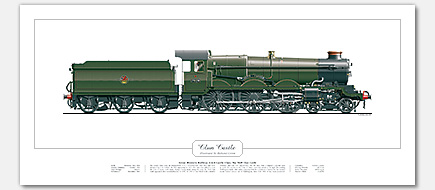 Click here for full details of the print.

Previous News