SR V Schools Class No. 928 Stowe
9th April 2019
The illustration of Stowe in mid-1930s condition has been completed. Stowe was part of the second batch to be produced with modifications from the initial ten. It has been preserved and is owned by the Maunsell Locomotive Society.
A Limited Edition print, with a run of 250 signed and numbered copies, will be made available this autumn, with the first (1/250) being allocated, as usual, by a draw. To be entered into the draw you will need to have made an advance purchase in the three weeks before publication.
£5 from the sale of each print sold will go to the Maunsell Locomotive Society
If you would like to be contacted when advance orders are being taken let me know via the Schools Print Form.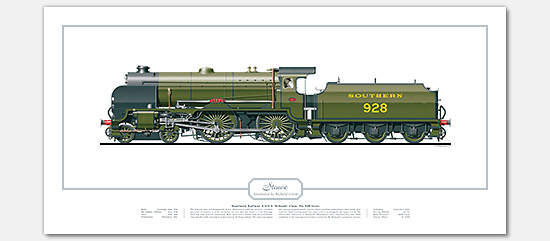 Click here for full details of the print.
General Update
18th January 2019
Things have been quiet recently regarding the publishing of further prints and the completion of any new illustrations. This is due to being busy with other work, which has included being commissioned to produce livery sheets of various locomotives and items of rolling stock for a model manufacturer. Work on the locomotive illustrations has slowed because of this, plus I have been undecided on which, if any, of the completed ones to have published.
The SR Schools illustration has progressed during this time, although much slower than anticipated. The first member of the class to be produced will be No. 928 Stowe in 1930s Maunsell Green. Hopefully it should be available to view in early spring (2019) with a print of it being release in the autumn (2019). If you would be interested in a print let me know via the Schools Print Form.
The website has also been tweaked to make it a better experience when viewed using a tablet.
SR No. 34072 257 Squadron
24th April 2018
The print of SR 4-6-2 Battle of Britain Class No. 34072 257 Squadron, which has until now been only available to Southern Locomotive Limited's shareholders, is now available to everyone. Incidentally the 24th April 2018 is precisely 70 years since its entry into traffic!
£5 from the sale of each print sold goes to Southern Locomotives Limited
The illustration portrays the 257 Squadron in 'as preserved' condition.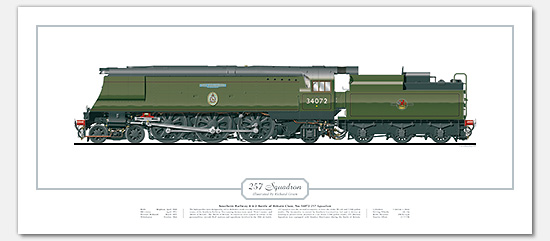 Full details here.
SR V Schools Class
25th January 2018
Those of you who have been visiting this site for a long time may remember that I was considering printing an early illustration of mine titled 'Maunsell's Masterpiece', which had No. 905 Tonbridge as it's subject. The idea was dropped as the illustration was not up to the same standard as those which are now being produced!
However I am now starting work on a completely new illustration of Maunsell's SR V Schools Class, which will will be to the same standard as the current illustrations. The first will probably be No. 928 Stowe in mid-1930s Maunsell Green condition. If this, or another member of the class, would be of interest please let me know using the Schools Print Form.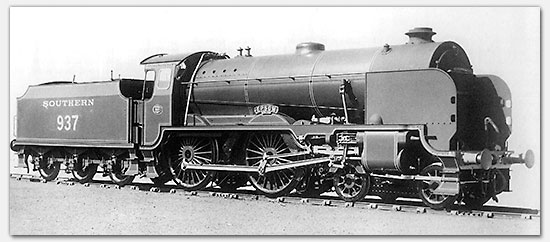 Official Photograph of No. 937 Epsom.
If you have previously contacted me about the Schools Class it would be appreciated if you could also use the form to confirm your interest.
Please note that Streamlined No. 999 will not be produced!

Previous News